What Supplies Should I Keep in My Vehicle During the Winter?
By Product Expert | Posted in How to, Tips & Tricks on Wednesday, December 18th, 2019 at 6:28 pm
Don't get caught in a snowstorm without some emergency supplies. If your car ends up in a ditch and won't start, or the fuel is low, it's too late to help yourself. Keeping a winter emergency kit in your trunk or a cargo area can be a literal lifesaver. Use this guide to put together a kit of your own or look for a pre-made kit based on the items here.
Stay Warm
The best thing to keep in a car in the event of a winter stranding is thermal blankets. These shiny sheets of metal may look thin, but they are some of the best heat-trapping methods out there. It will also help to keep a cloth blanket or two along with an extra jacket, coat, or hooded sweatshirt in your vehicle to keep you as warm as possible for as long as possible. Stay warm until help arrives.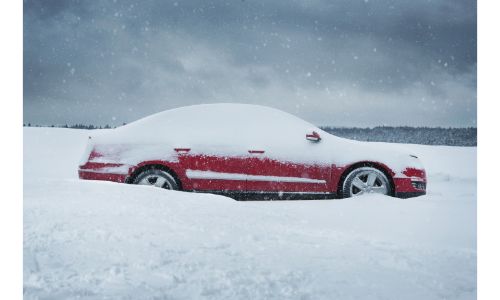 Visibility
There are a few reasons to keep road flares, pop-up reflectors, flags, or a flashlight in your car. Visibility is especially important for those who drive white cars that blend in too easily with the snow. Combine two or three of the above-mentioned items. Road flares are a recognizable sign to responders of an emergency, and flashlights can both help you see better and help others see you too. Just make sure not to shine flashlights into the eyes of other drivers, or you could cause another winter accident.
---
How do you get Snow and Ice off your Vehicle Windshield?
---
Traction
If your car is still operational, your only problem may be traction. If you are in a ditch or other rough terrain, traction is the key to getting back on the road. Some car kits come with plastic traction pads you can put in the snow in front of or behind your tires to give your car enough to push against to keep moving. Cat litter or gravel could also help spinning tires dig in and move a stranded car.
Load up Your New or Used Car
If you want to pick up a new or used car this winter, don't look any further than Randy Marion Automotive. Regardless of your taste in vehicle make or model, we have the variety and value you are looking for. Contact us on the phone, at our location, or online to learn about our current inventory!